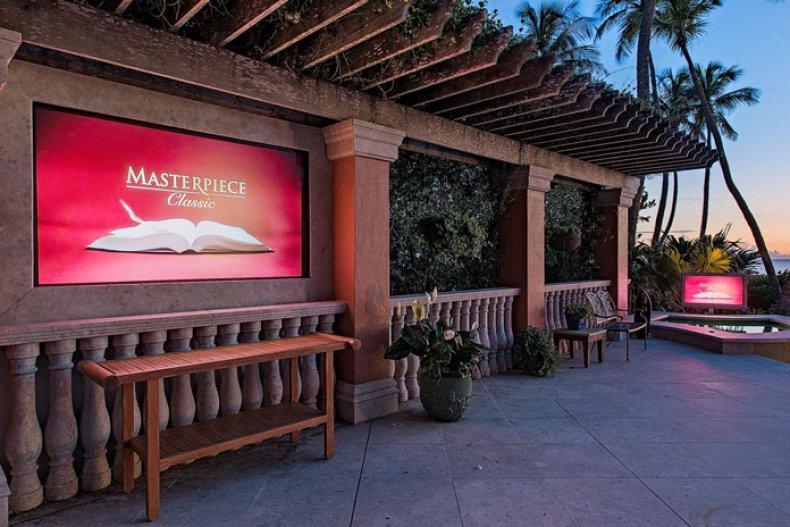 Ingenuity of custom installer produces entertainment marvel in Florida outdoor theater.
Picture this: you're hosting friends in your spacious ocean-front backyard, with your guests enjoying the view, swimming in the pool and leisurely soaking in the hot tub. A massive patio provides plenty of room for entertaining, catering and wine tastings, but you need a solution for the nights when football games or outdoor movies are on the agenda. What do you do when you want an entertainment solution worthy of such a luxurious environment? Two things: think big, and call a professional audio/video integrator for advice. This Naples, Florida home owner did both, and ended up with an innovative display solution that addresses his entertainment needs in style.
Outdoor cinemas and viewing environments have three critical concerns that need to be addressed to deliver a satisfying experience: find a way to control or compensate for ambient light, protect the display from environmental and weather liabilities and select a location that will provide clear sight lines for the audience. Seacoast Sound, a precision integrator with offices in both South Florida and New England, was selected by the Naples home owner to create a custom viewing environment that alleviates these concerns.
Upon hearing the client's request for a large-screen viewing solution, the Seacoast team initially considered a recessing flat panel solution, but that idea proved impractical for numerous reasons. Fortunately, a Seacoast team member recognized that the pergola running along the large pool deck had five equal open spaces, framed by columns on each side. After taking measurements and speaking with their Stewart Filmscreen representative, Seacoast suggested an 80" piece of weather-resistant Stewart Starglas rigid screen material, illuminated by a powerful HIGHlite 1080p 660 3-chip DLP projector. To ensure the projector is both protected from the elements and able to expel its heat properly, a custom 8' x 8' enclosure was installed off the back of the central open bay. The enclosure supports the piece of Starglas, the 8,000 lumen HIGHlite projector and a mirror used to increase the throw distance from projector to screen. Timer-controlled exhaust fans within the enclosure ensure the projector stays properly cooled.
Six team members and a crane were needed to install the custom enclosure, but the projector installation was a breeze once the screen was in place. "It only took us five minutes to get the image aligned," commented Gene Howarth, owner of Seacoast Sound. Howarth continued, "The projector was amazing. Ready to go, right out of the box, with almost no adjustments needed." As further testament to Howarth's appreciation of the projector line, an in-house home theater with a 100" dropdown screen is illuminated by another Digital Projection International projector, this time a single-chip DLP M-Vision 400.
The custom enclosure allows the HIGHlite-Starglas combination to deliver dazzlingly bright, large-screen entertainment from a weather-proof environment. All while being ideally positioned from a viewing perspective, regardless of whether you're swimming or socializing over a glass of wine. Completing the outdoor media experience are a fully automated Crestron SonnexMultiroom Audio System with Crestron outdoor speakers, and a recessing Sunbrite tv installed near the hot tub. This marvel of outdoor entertainment is in constant use by the homeowner, and continues to draw rave reviews.